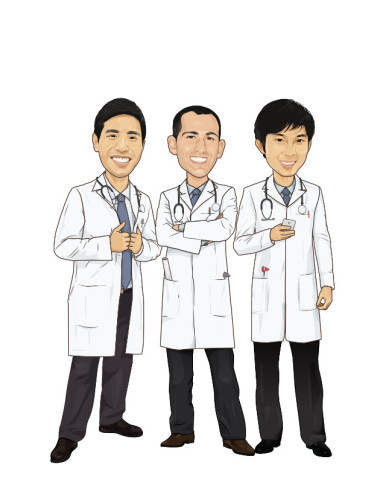 Duy, Omeed, and Henry
Omeed Saghafi, MD – chief medical editor
Omeed is a practicing, Board Certified Emergency Physician. As a former Clinical Instructor at the University of Colorado he has previously taught medical students and residents. He continues to teach students, paramedics, ski patrol, and is a certified Advanced Wilderness Life Support instructor. He has published several peer-reviewed articles and book chapters. He helped start a massive open online course (MOOC) for global health responders and has volunteered as a physician in resource poor settings both internationally and at various events in the US. He is a former biotech bioengineer, with a research background in tissue engineering, biomechanics, and medical website design and development. He runs trails by summer, snowboards the Rockies by winter, and plays a mean fiddle.
Henry Duong, MD – chief tech editor
Henry went to medical school and then realized he was way too smart to be a doctor (Omeed's words not Henry's). While he no longer sees patients, he continues to contribute to the field of medicine as a writer for a medical publisher and has contributed to countless medical textbooks. His main passion is tech and entrepreneurship. He has started and sold several start-up ventures including one of the first ever telemedicine websites and backyard medic, a project that distributed thousands of first-aid how-to packets in Africa. He also loves to climb and has been sponsored on several of his climbing adventures and free solo exploits.
Duy Phan, MD – contributing editor
Duy (pronounced Zoo-ee) is a senior orthopedic surgery resident with a passion for bones, joints, and the operating room. He has published in multiple orthopedic peer-reviewed journals and books. When he is not busy trying to replace every hip and knee he can lay his hands on, he can be found riding his road bike or snowboarding. Most importantly, he has the biggest pecs you've ever seen and surfs with a hat because he doesn't like to tan his delicate Asian skin. His motto is to "never stop shredding the gnar-gnar, dude!"