The ultimate guide to packing a first aid kit for your next trip.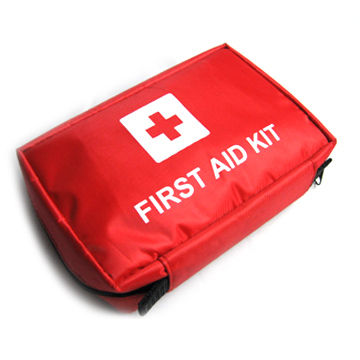 It's summer! That means the time for camping, hiking, climbing, and getting into serious medical mishaps in the wilderness is here. If you're going to be away from civilization, you should seriously consider a first aid kit. You can make your own, or you can buy a premade one and then add/subtract from it to fit your needs.
General rules:
–Your kit should focus on what you will need for the specific trip or environment. This is where the premade kits often have too much or too little. High altitude climbing may require medications for high altitude sickness, a space blanket in case of hypothermia, or even oxygen. A trip to Vegas requires special medications too, but that discussion stays in Vegas. Athletic tape sticks to hot surfaces while gorilla tape sticks to cold surfaces.
-Try to save room and minimize weight by using as many things with multiple purposes as possible. Aspirin can be used for pain relief, or a heart attack. Duct tape has a thousand uses but it can be used to cover blisters and wounds. Personally, I think a good knife has more uses than a pair of bulky scissors. Maxi pads can make great compressive dressings. Tampons can plug up a bloody nose or puncture wound.
-Don't pack things you don't know how to use. Packing suture material if you don't know how or when to suture is just a waste of space.
In order of utility, things to consider packing, adapted from the red cross:
-Personal medications, if you or anyone on the trip takes medications regularly or as needed (an asthma inhaler for asthma, or an epi-pen for allergies), don't forget to pack these
-2 absorbent compressive dressings
-adhesive bandages (assorted sizes)
-tape (cloth or other)
-pain medication (aspirin definitely, consider ibuprofen and acetaminophen)
-benadryl
-5-10 gauze pads
-roller bandage
-hydrocortisone cream
-antibiotic ointment
-tweezers
-scissors or knife
-antiseptic wipes
-thermometer
-ACE or elastic bandage
-spyroflex or blister pads if hiking
-nonlatex gloves
-blanket/space blanket
-instant cold compress
-triangular bandage (if you know how to use it)
-breathing barrier with one-way valve (you don't really need this if you do hands-only CPR)